My boy Michael
Michael D. Szabo
Hypoplastic Left Heart Syndrome (Congenital Heart Defect)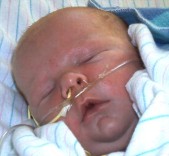 Michael was born February 20, 2004 at Page Hospital in Page Arizona. Up to and after his birth he seemed to be a perfectly healthy boy. The ultrasound imaging showed no problems, his after birth check showed no difficulties, everything looked well. Nearly 8 hours later, things began to change. Michael began turning blue around his lips, feet and hands, a clear sign he was not getting clear circulation. Thanks to the prompt action of his doctor, he was immediately put on oxygen and Phoenix Children's Hospital was contacted. Because his mother was still recovering from an emergency cesarean, Michael and his father <me> was air evacuated to Phoenix. Thanks to the wonderful care of the Neonatal and Pediatric Intensive Care Units, Michael was diagnosed with Hypoplastic Left Heart Syndrome and was able to receive his first open-heart surgery by the 27th of February.
We chose to have the Norwood three-stage procedure, rather than the other alternatives because we felt it gave him the best opportunity for life and health. The first surgery went well, Michael recovered quickly and was able to come back to us here in Page by mid-March. He was on a feeding tube and oxygen until his second stage surgery in mid July 2004. This surgery began the process of a full bypass to allow him to live a fairly normal life.
Michael came through it with flying colors and impressed everyone. His Pediatric Cardiothoracic Surgeon, Dr. Michael Teodori MB who is based out of Phoenix Children's Hospital in Phoenix Arizona, was wonderful and took great care of our son the whole time. Though Dr. Teodori was wonderful to him and took great care of him, his mother and I refused to leave his side during the 16-day stay. We did not feel the hospital staff was up to the care and needs of an infant. This time we were not at Phoenix Children's hospital, were we forced to go to a hospital known for it ADULT care facilities. Their infant ICU (Intensive Care Unit: Were you take a person who needs around the clock supervision. You know the place they send people in the movie cause they are near death.) facilities reminded his mother and I of the general ward at Phoenix Children's Hospital. There were times where I would have to FIND a nurse (remember this is the ICU) to get Michael checked on. There were times when I had to stop people from touching my son for cleanliness and because no one knew if they were suppose to be with him. St. Joseph's hospital in Phoenix Arizona may be a wonderful ADULT care facility, but I would NEVER recommend it to anyone who was having health care issues with their children.
After being in the hospital most of 5 or 6 month and as I am the type to ask question, the Phoenix Children's Hospital staff answered everyone with compassion and understanding. I was never ignored, never made to feel inferior, and my questions were answered every time. It was like we were people and someone cared about our child and us. Because I asked these questions and got answers my wife and I were very aware of the sites and sounds around our baby. We could tell a good ding from a bad ding and while we were at Phoenix Children's Hospital we never had a bad ding go unanswered. This was different at St. Joseph's both times we have been there.